Male Romper style Jumpsuits set Internet Ablaze for Summer Resolve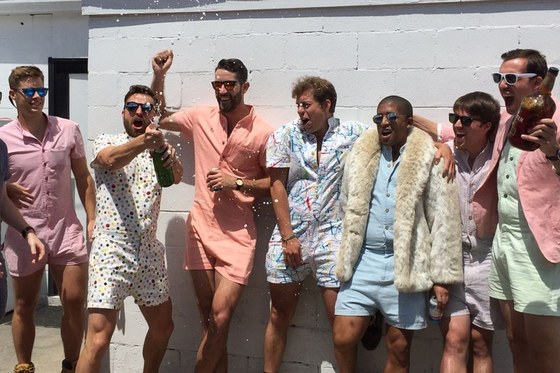 The daring versatile apperal ignites LGBTQ enthusiast and communities with support and adoration while advancing and promoting fashion forwardness in MENS Fashion.
By: Cyclolore Magazine
Male Summer Trend Report!!
Look out this summer of 2017, as a new style is likely to capture your attention for more than a few seconds. Male Jumpsuits have taking storm of the internet and online shopping carts as the sexy new skin baring style takes a fashion strike on the hearts of fashion enthusiast. The fashion whisper turned into a shout this week when a venture called "RompHim" propelled on Kickstarter. RompHim is, clearly, a man-sized romper offered in a few pastel hues and prints. Along with that swells controversy around break through emergence of the romper-styled jumpsuits creating friction on the exposure and gesture of the man's legs and thighs. Many opposing social media meme's point to a more masculine aesthetic to wearing male shorts resulting in a more athleisure approach missing the gist of a Male Jumpsuit and its functions. The Male Romper style has turned into something that's raising questions on the gauge of male sexuality, could it be based on a man's comfortability in sporting shorts above the knees, or is it the lower body expression of skin bearing.
As the lines blur between sex-based relationships and preferences, fashion styles that reflect the growth follows suit. Males in 2017 have the pleasure of choosing from a large range in many styles (more so in the metropolitan areas of the U.S.) dressing with less tension around gender conforming fashion practices, beliefs, theories, styles, colors, and the like. Same-sex marriage empowered by law has practically become potentially tradition for the country. Via web-based networking media, you may have seen a blast of romper-related jokes and accepted the flood of disturbing political news had driven individuals into some kind of dissociative fugue state. Possibly! In any case, it was likewise individuals finding that a) male rompers existed, and b) they are cool at this point. The power of the internet and connectivity allowed a different type of influence in regards to decision-making approaches to what men consider a hit or miss fashion trend.
With President Obama and the Beauacracy advancing the acceptance of one love in the past half decade, fashion designers now have a wider option of styles that coincide with gender non-conforming lifestyles. One thing that has definetly to be taken into consideration ist it satisfies the 'sagging' negagativity surrounded around how men wear their pants. The shift to opposing the acceptance especially in woman behind this trend can be confusing when it clearly cleans up the average 'cool' looking attempts some males generally gravitate to by letting the pants relax more so when hugging the waist line. The crusade displays this RompHim as a somewhat unsavory, nonchalant article of clothing for young fellows with a wealth of cash and additionally self-assurance, who never skip leg day and spend the late spring ends of the week at their brother's home on the Cape. Which is not to judge! That is certainly a stylish.
There's so much optimal moving potential in the aesthetic that makes the male jumpsuits more modernly designed and relevant than the suspenders, etc, that use to be very trendy but not with the potential the new male romper styled jumpsuit has exemplified. Truth be told, it is a tasteful thing that men - and the general population that adoration to take a gander at them - are obviously aching for. In two days, the Kickstarter has raised more than $136,000, which is 13 times the $10,000 objective they were shooting for. This is extremely impressive and inspiring to see men's fashion in this aesthetic thrive in such fast timing.